I Dyed My Hair Platinum Blonde And This Is What It's Really Like
If there's one thing Kim Kardashian West fans love about the reality star, it's her ability to make a statement. This past September when we learned she'd be heading to New York Fashion Week, we expected a slew of head-turning fashion moments, but we didn't see her drastic hair change coming. An icy platinum blonde Kim emerged onto the pink carpet at the unveiling of Tom Ford's Spring/Summer 2018 collection, and she looked good. This wasn't the first time we'd seen KKW blonde, but still the shock was palpable.
TZR's senior video producer Natalie Mattozzi had been on the fence for a while about shifting her own brunette strands to platinum. Inspired, she decided to go for it and allowed us to document the process so we could provide a complete and honest breakdown of what it really takes to make such a commitment. Natalie's transformation was completed all in a day's work, and she dished on everything she learned, from prep to after-care—plus we got it all on film!
No matter how experienced your colorist, bleach poses some risk to your hair. In Natalie's case, she'd never before dyed her hair and rarely applied heat, so she had so-called virgin hair. This is a good thing. She was advised by her colorist not to shampoo a few days ahead of time so her hair would retain its natural oils for protective purposes. Unfortunately she forgot this step and shampooed the morning of her big appointment (more on this later).
Upon arrival, Natalie learned she'd be working with colorist Justin Anderson and an assistant to keep the process moving faster, so the hair would lift evenly.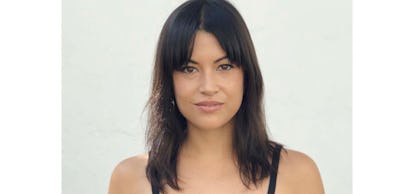 The team applied a bleach mixture to the hair from mid-shaft to ends, heated it under a cap and then resaturated it—that's a lot of bleach. Once the color began to lift, they moved on to the roots, which were left for last because they lift quickest due to scalp heat. When Natalie's entire head had transformed into a shade of bright canary yellow, the solution was washed out.
One trial of bleach isn't all it takes, folks. After Natalie's stylists blow-dried and examined the overall health of her hair (which was in good shape), they mixed up a second batch and repeated the process all over again. By this stage, her hair was what she described as "full Sailor Moon yellow"—we'd be freaking out.
The next step was a violet toner to cancel out the buttery yellow tones and bring out the icy hues that really make hair platinum. To finish it off, they applied a root gloss mixed with a second toner in an ashier color to give her roots a shadow effect.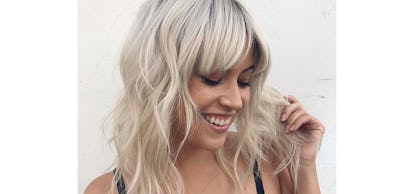 While Natalie had read online that such transformations can take ten-plus hours, her salon visit only clocked in about five (including styling). After hearing stories about burning, irritation and discomfort, she was worried about pain, but she experienced little of that despite shampooing beforehand. She only felt slight stinging during the bleaching process and a bit of pain during the blow-dry.
Because her natural hair is so dark, her roots will grow out quickly. She was advised to color them every four to eight weeks in order to maintain her new blonde mane in its current state. If she waits longer, banding (overlapping) can occur, which makes an even tone harder to achieve.
Natalie agrees the rumors are true, blonde is difficult to maintain. The hair makeover has forced this typically low-key beauty girl to make a lifestyle change, but finding the right products and learning from the professionals have helped upkeep become second nature. And she'd totally do it again.