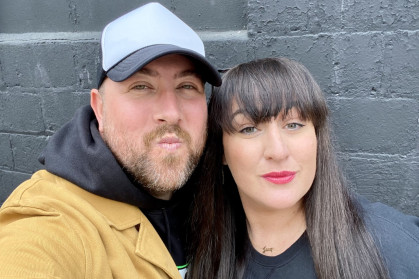 Jacquelyn DeJesu Center and Alex Center had a low rent in Clinton Hill, but after the owner sold the apartment, it was time to move. The market was frenetic in spring of 2021 and to land a new place, they had to double their rent. Now they are in a luxury rental building with amenities they never had before. Here's Alex's story.
Jackie was born in Manhattan and lived there until she was three years old. Both of us were raised on Long Island and grew up in bordering towns, but we didn't meet until we were in college.
We lived in Williamsburg for seven years before moving to a one-bedroom, one-bath apartment in Clinton Hill, Brooklyn, where we lived for the last three years. Our place was on the ground-floor and still had lots of natural light thanks to its 15 windows and 18-foot ceilings, but the building had no amenities. Thankfully our apartment had a washer/dryer and dishwasher.
The building was a mess and lots of our packages were stolen. Jackie had her unlocked bike stolen and at one point, management had to rip out our bathroom to replace the pipes. They told us the roof would be renovated, but that never happened. Also, there was no central air, which was an issue in the summer.
We did love living in that neighborhood and our apartment was gorgeous and so affordable. [Editor's note: Alex didn't want to tell us what they paid in rent.]
We walked around the neighborhood a lot for exercise and relished our community vibe. We enjoyed restaurants like Sisters, Bar Bolinas (now closed), and our forever favorite (a bit of a drive but worth it) Ki Sushi on either Flatbush or Smith Street.
We did our food shopping at Wegmans—so close to Clinton Hill—we met in Buffalo so Wegmans holds a special place in our heart!
---
[Editor's Note: Brick Underground's series "Transitions" features first-person accounts of what it's like to move from one New York City neighborhood to another. Have a story to share? Drop us an email. We respect all requests for anonymity.]
---
But we found the commute to work difficult. We're both professional creatives. I own an award-winning design studio in Greenpoint called Center. Jackie is the founder, inventor, and CEO of SHHHOWERCAP, a waterproof turban company based in NYC. I drove 40 minutes to Greenpoint and Jackie Uber'ed 30 minutes to her Soho headquarters.
After the attempted insurrection in January, our European landlords decided to move back home and sell the apartment. We can't say we blamed them. We entertained buying it ourselves because it was our home and we didn't want to leave in the middle of the pandemic. We applied and were approved for a mortgage and because we knew the place and its problems intimately, we put a low-ball offer in. They didn't accept because the brokers were pushing them to go to market. Ultimately that was a good move for the sellers because they got the price they were looking for.
We really weren't ready to buy anyway. It just wasn't the home or neighborhood that we want to raise kids in. Ultimately we decided to look for somewhere new to live. We looked in Clinton Hill initially but there wasn't much inventory. By April 2021 it was time to take the plunge and rent elsewhere.
We viewed quite a few places—at least 10! When we first started looking, it was overwhelming because so many people were coming back into New York. Some rentals in Brooklyn had lines down the block for viewings. Appointments were so hard to get and the leasing offices and real estate brokers were so overwhelmed that agents were not even responding to us. Places were just being snatched up.
Then my co-worker suggested that we check out Two Blue Slip in Greenpoint. We walked in and pretended we were late for an appointment that our personal assistant made! It was two weeks before our lease was up—and we were desperate. It worked. 
We landed in a one bedroom, one bathroom with a steam shower, dishwasher, and laundry in the unit. It's a bit smaller (and significantly more expensive) than our Clinton Hill place but the views are considerably better and we have a doorman. It's a pretty close walk to my office so it made sense. Although it was a sizable rent increase, we knew it was worth it to move there. [Editor's note: A one bedroom is currently available at Two Blue Slip for $4,745 a month.]
The apartment's layout, outdoor patio, and the expansive views somehow make it feel bigger than our previous place. We're also high up, so it's super quiet and relaxing. 
We love the views, particularly the sunsets and sunrises. The apartment is flooded with natural light and we adore our high ceilings. The building has a rooftop pool, which we take advantage of too. We're naturally homebodies, and we love that Two Blue Slip has great amenities where we've met a lot of people. Hanging by the pool in summer is awesome. 
We never really considered living in a luxury apartment building before. We've lived in Brooklyn for over a decade and this is our first place with a doorman. It was a bit of a transition but now we're not sure if we could ever go back to living the way we did before. This is the first time we're getting the full experience of true NYC prices, paying almost double what we did at our last place—which was a steal. We rationalized our move with the thinking that loving your space is more important now than ever.
And we love Greenpoint. My office has been in this area since 2018 and I've always thought of it as the perfect neighborhood since it has a lot of amazing restaurants, bars and stores, but it's not super busy. The area remains quiet and feels like a community. Jackie enjoys that it's close to Williamsburg and all the spots she missed having easy access to.
We both walk to and from work now but if we ever do want to get anywhere else the G train is super convenient. And if we have meetings in Manhattan an Uber isn't too expensive. Jackie relocated her daily work space to Williamsburg, and we decided to get rid of the car. 
We are big on dinner dates and typically go somewhere close to our home to eat. We love Leroy's, which just opened on Franklin and Oxomoco is where we go when we want incredible Mexican. Homecoming is great for coffee, flowers, plants, and home goods. We recommend food shopping at Night Out for anything you'd need to host or attend a dinner party.
We also love just walking to the water and watching the boats go by.
We find that Greenpoint also offers a lot in terms of beauty options. For hair, celeb stylist Kenna owns Kennaland for the best cut and color. Whiteroom and Rob Peetoom are great too, which are both nearby in Williamsburg. Jackie says Primp & Polish is hands down the best nail salon. Nothing else compares. They have three locations that are easy to get to and one right in Greenpoint. Bathhouse is our go-to for an amazing spa experience. Multiple saunas!
Everyone—friends, family and even delivery people—comments on our views. They are amazed we can see every borough in NYC. It's kind of epic. So epic that it's a bit uncomfortable and we're still getting used to it. We feel so inspired every time we have the luxury of time to just sit and stare out the windows, especially when we catch the sunrise or sunset. There's a little bit of magic in it.