The secret's out: We all know that "effortless waves" — you know, the kind that look artfully disheveled in that just-rolled-out-of-bed way — aren't 
actually
 effortless. But even if it currently takes you 30 minutes and almost as many products to create the tousled look you love (no shame), there's hope for a truly effortless hair care routine yet. With an innovative, patent-pending design and a fabric that minimizes friction, Lunya's new Washable Silk Scrunchie proves that 
scrunchies for sleeping
 could be the key to waking up with perfect hair.
"This was a piece that took a ton of R&D [research and development]," Merrill says. "We made lots of prototypes, from full hair bonnets — so Oregon Trail — to barely-there bands." The final version includes a silk-covered elastic band, flanked by pull ties on either side. To use, you slide your hair through the scrunchie and pull at the tabs until you reach your desired tension. "It dissipates the band pressure really well, and since it utilizes silk on the outside, it's naturally great for smoothing," Merrill explains.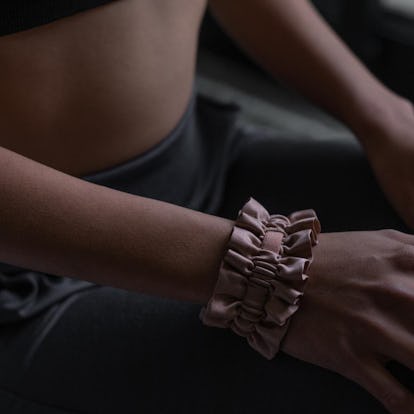 Where traditional hair ties and scrunchies can create breakage and frizz, silk material keeps hair protected. "Silk doesn't pull moisture from your hair and skin the way that cotton does, leaving your hair silkier and more hydrated," Justine Marjan, a celebrity hairstylist who works with Kourtney Kardashian and Ashley Graham, tells TZR. This is particularly beneficial for natural and textured hair, which tends to be on the drier side and therefore more prone to breakage. That's why when you let down your hair the morning after using Lunya's silky hair tie, it'll look pretty much the same as it did before bed; no frizz, no elastic marks (at least, that's been my personal experience — I'm certifiably obsessed).
The Lunya Washable Silk Scrunchie sold out in one weekend — don't worry, you can still get on the waitlist for the next release — but there's more than one way to sleep your way to better hair. "One of the easiest changes I've found that gives the biggest reward is switching to a silk pillowcase," Marjan says. "I personally love The Hollywood Silk Solutions silk pillowcases, because one side is cotton so it won't slip around on the bed."
The stylist also suggests sleeping in a loose braid or two low buns; these styles keep hair frizz-free overnight and result in easy waves when you take them out in the morning. "For natural hair types, I'm a big fan of wearing the hair in a protective style, like the pineapple or a twist out, and sleeping in a silk scarf or turban," Marjan tells TZR. "This will really keep the hair hydrated and protected while you sleep."
Ahead, discover all the silk sleep accessories and no-snag scrunchies you need to cut your morning styling time in half. After all, as Merrill says, "Who doesn't want something that effortlessly makes getting ready easier?"